Ramulo Ramula Lyrics with meaning in Hindi and English – Ala Vaikunthapurramuloo | Allu Arjun
 Video URL-
  https://youtu.be/Bg8Yb9zGYyA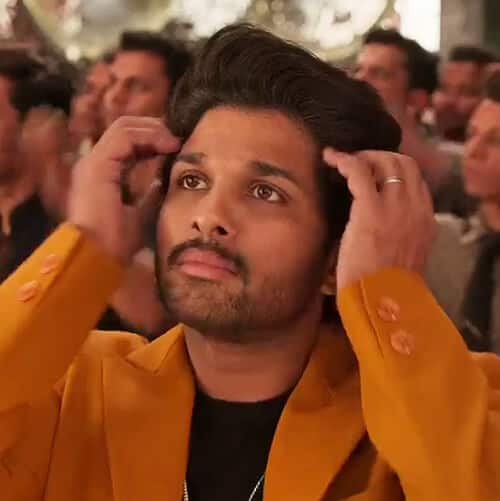 Song Name:

          Ramuloo Ramulaa (Telugu) Movie 
Album:

                   Ala Vaikunthapurramuloo (2020)
Singer(s):              

Anurag Kulkarni, Mangli Satyavathi
Lyrics Writer(s):     

Kasarla Shyam
Music Director(s): 

Thaman S
Video Director(s): 

Trivikram Srinivas
Actor(s):               

Allu Arjun, Pooja Hegde


³ihMdI Anauvaad´


हे ब्रो आपम्मा
ई डिक छिक डिक छिक काकुन्डा
मना म्यूजिक एमन्ना उन्दा
अब्बा कडुपु निंडिपोइंदि बंगारम





ihMdI Anauvaad–




अरे भाई रुक जाओ। ये डिक छिक डिक छिक वाला छोडके अपना वाला म्यूजिक कुछ है क्या? 
(फिर म्यूजिक चलता है)
हाँ..पेट (मन) भर गया प्यारे





बंटु गानिकि ट्वेंटी टू
बस्तिला मस्तु कटौटू
बच्चा गाँडला बेच उंडेदी
वच्चिनमंटे सुट्टू




ihMdI Anauvaad–




बंटू नाम का लडका बाईस 
साल का है।
उसका बस्ती में बड़ा नाम है
वह जहाँ भी जाता था, लडकों का झुंड उसके पीछे रहता था





*किक्के सालका ओ नयिटु
एक्की तोक्कू बुल्लेट्टू
संदु संदुला मंदु कोसम
एतुकुतांटे रूटू




ihMdI Anauvaad–




एक रात  उसे शराब मजेदार नहीं चढ़ी।
 वह बुलेट पर चढकर गली गली शराब  ढूंढ रहा था।





*सिल्कु सीरा कट्टुकोनी
चिलडु बीरू मेरिसिनट्टू
पोटलम कट्टीना बीर्यानीकी
बोट्टु बिल्ला पेट्टिनट्टू




ihMdI Anauvaad–




एक ठंडी बीयर, सिल्क साडी पहने हुए




 एक बिरयानी पैकेट लिए बिंदी लगाके बैठा हुआ है





*बंगला मीदा निलुसोनुंदिरो
हो सन्दमामा
सुक्का तागका चक्कारोच्चेरो
एम अंदम मामा




ihMdI Anauvaad–




वह चाँद जैसा बंगला के ऊपर खड़ी है।




 क्या खूबसूरती है बिना पीए चक्कर आ रहा है।





जिंक लेक्का दुंकुतुनटेरो
आ संदमाव
जुंकि जारि चिक्कूकुन्दिरो
ना दिलुकु मावा


ihMdI Anauvaad–




वह चाँद जैसी लड़की हिरण जैसी कूद रही है।




 उसका झुमका फिसलकर मेरे दिल पर अटक गया।





रमूलो रमूला नन्नागम जेसिनदिरो
रमूलो रामुला ना पानम तीसिंदिरो ।।6




ihMdI Anauvaad–




हे राम ,रामजी..मुझे बेचैन कर दी। मेरी जान ले ली।





हे तमलपाके एसतुन्टे
कम्मगा वासना वस्तावे 
एर्रागा पंडिन बुग्गलु रेन्डु
यादिकोस्ताये




ihMdI Anauvaad–




हे...मैं पान चबता हूँ तो, तेरी खुशबू आती है।




 तेरी लाल लाल दोनों गाल याद आते हैं।





अर्रे पूव्वुला अंगी एसतुंटे
गुंडी नुव्वै पुस्तावे
पंडुकुन्ना गुंडेलो दूरि
लोल्ले चेस्तावे 




ihMdI Anauvaad– 




अरे मै फूलों वाला कुर्ता पहनते 
वक्त बटन  पर तुम दिखती हो।
सोए  हुए दिल मे घुस कर बहुत शरारत करती हो।





अर्रे इंटी मुन्दु लैटु
मिनुकु मिनुकु मंटानटे
नुव्वु कन्नु कोटिनट्टू सिग्गु पुट्टीनदे
सीरा कोंगु तलुपु साटु सिक्कू कुंटानटे
नुव्वु लागिनट्टू वोल्लु जल्लु मंटान्दे





ihMdI Anauvaad–




अरे घर के सामनेवाली बल्ब टिमटिमाने से
तुम आँख मार रही हो सोच कर शर्म आ रही है।
मेरी साडी की पल्लू दरवाजा मे लगने से
तुम ही ने खींचा सोचकर शर्म आ रही है।





नागस्वरम ऊदुतुंटे नागुपामु ऊगिनट्टू
एंटापडी वस्तुन्नाने
पट्टा गोलुसु सप्पुडिन्टु 




ihMdI Anauvaad– 




सपेरा के पीछे साँप जैसे तुम्हारी पायल की आवाज सुनकर  




तेरे पीछे पीछे आ रहा हूँ





पट्टनट्टे तिरुगु तुन्नावे
ओह संदमाव पक्ककु पोई तोनगीसुस्तावे
एम टेक्कुरा मावा




ihMdI Anauvaad–




ऐसे घूमते हो कि कुछ जानती ही नहीं, 




फिर बगल में जाके मुड़कर देखते हो, 




क्या घमंड है इसका देखो मामा।





रमूलो रमूला नन्नागमक्ष जेसिनदिरो
रमूलो रामुला ना पानम तीसिंदिरो ।।6




हिंदी अनुवाद-




हे राम ,रामजी..मुझे बेचैन कर दी। मेरी जान ले ली।
Ee Dik Chik Dik Chik Kakunda,
Music
Abba Kadupu Nindipoindi Bangaram,
Hay Bro insteed of dik chik dik chik have any our music?.
Music
Yes Its fill our stomch[heart]
Basthila Masthu Cut Out-u,
Bachagandla Batch Undedi,
Bantu was aTwenty two years old boy. He well-known dude in his area.
He had a bunch of guys follow him everywhere.
Kick Ye Chalaka O Night-u,
Sandhu Sandhula Mandhu Kosam,
They got on their bikes one night for alcohol.
They crashed every possible store for alcohol.
Potlam Gattina Biryaniki,
shining like a beer in silk a saree.
Tempting me like a packet of hot biryani.
Bangla Meedha Nilusonundhiro,
Sukkadhagaka Chakkar Occhero,
Jinka Lekka Dhunkuthuntero,
Aa Chandamama Junkhee Jari,
Chikkukundhiro, Na Dhilluku Mama,
oh she was like the moon.
While she was hopping around like a deer.
Her earring fell down and it struck my heart.
Oh boy! She blew my mind. Oh boy!
Ye Thamalapake Yesthunte,
Yerraga Pandina Buggalu Rendu,
Every time I eat betel leaf,
Your red blushing cheeks take over my mind.
Arey Puvvula Angi Yesthunte,
Pandukunna Gundelo Dhoori,
Every time I wear a floral shirt,
You barge into my heart and create chaos inside.
Seera Kongu Thalupu Satu,
Nuvvu Laginattu Vollu Jhallumantandhe,
When the bulb in front of my house flickers.
It seems like you're winking at me naughtily.
When my drapes are stuck in the door hinge.
It seems like you're pulling them and gives me goosebumps.
Nee Patta Golusu Sappudintu,
Like a snake swaying to the snake charmer's tune.
I follow your track as your anklets begin to clink.
Pattanatte Thiruguthunnave,
O Sandhamava Pakkaki Poyi,
You go around like you don't care,
You hide and peep from a corner.
Ramulo Ramula, Nannagam Jesindhiro,
Ramulo Ramula, Na Panam Theesindhiro -5
Oh boy! She blew my mind.
Oh boy! She stole my heart.